One morning several weeks ago, I woke up to find Joe helping Grace plant vegetable seeds in the little seed starter greenhouse kit we picked up at the hardware store. Before I could even see straight, I grabbed my camera and snapped a few photos.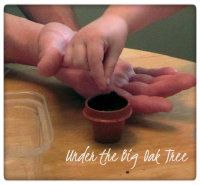 After a few seeds were planted and watered, Grace lost interest and I took over and finished. (We had a much bigger green house kit, than the one shown in the photos, that needed to be filled with seeds.)
In just a week, the zucchini, summer squash and watermelon plants were too big to keep in the starter kit. Since our garden beds weren't built yet, I decided to create my own little holding area for the growing plants to spread out a bit, until Joe had a chance to build the other beds.
Joe helped me stack 2 pallets on top of each other since they were too heavy for me to move on my own. I placed bricks (left here from the previous owner) around the outside edges to help keep the dirt from washing away during watering or rain. Then I added some soil and, of course, my little plants.
This worked out great. At least I think it did! The plants are now in their
permanent bed
and have just started to produce and they are full and healthy looking, so I don't think there was a problem with their temporary home!