This is one of my favorite pot-luck/family get-together meals. My aunt always brings this to family cook-outs and I always eat a couple of servings thoughout the day! It reminds me of our favorite baked bean recipe but is a complete meal with the added ground beef and green beans!
While this is my aunt's specialty, I've also made this a few times as my contribution to cook-outs with friends. It's always a hit with baked bean lovers.
I planned to make this overnight in the crock pot so we could take it to a friend that is recovering from surgery. I knew the basic ingredients, but wasn't sure of the exact measurements. When I looked for my copy of the recipe, I couldn't find it. I think we may have misplaced it when we moved a few years back. Rather than call my aunt after 11pm, I decided to search online for a similar recipe! Wow! There are so many different variations!
This one
seemed to be the closest to what I remembered, and I made a few changes to make it more like my aunt's recipe.
Of course, I forgot to take a picture of the completed dish. So, here's a photo of our favorite baked beans....just imagine the added ground beef and green beans!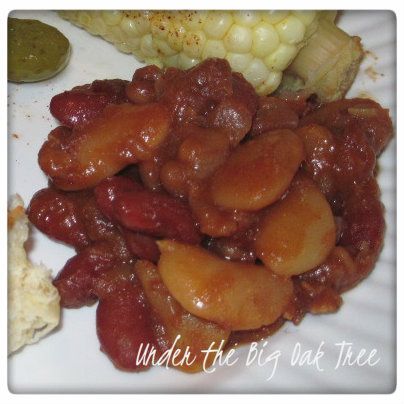 Crock Pot Burger Four Bean Bake
*Adapted from
Calico Beans Recipe
Ingredients:
3/4 lb. pre-cooked ground beef
1/2 lb. bacon, cooked and crumbled
1/4 cup onion, finely chopped
28 oz. can pork 'n' beans
16 oz can kidney beans, drained and rinsed
can butter beans, drained and rinsed
2 cups frozen cut green beans
1 tsp. finely ground mustard
3/4 cup firmly packed brown sugar
1/2 cup ketchup
2 tsp. apple cider vinegar
Directions:
Add all ingredients to crock pot, stirring to mix well.
Cover and cook on low for 8 hours.
Notes:
I used some pre-cooked ground beef from my freezer. A month ago, I browned up 3 or 4 lbs. of ground beef with some added vegetables (onion, red bell peppers, celery and carrots). Since I knew I was going to throw this together before bed, I decided it was a good idea to save myself some time. I took it out of the freezer earlier in the day and let it thaw partially before adding it to the bean mixture.