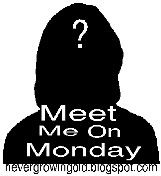 Since I managed to get my menu plan posted and linked up super-early today, I decided I would take advantage of Grace's naptime and join in the fun over at Never Growing Old. Each week, Java hosts Meet Me On Monday and each week, she asks (and answers) five questions in the hopes of learning more about her readers and fellow bloggers.
Here's what Java asks us this week:
What is your favorite kind of fudge?

Is there snow outside your window?

What is your favorite meal of the day?

Do you text on your cell phone?

Waffles or pancakes?
Here are my answers:
1. What is your favorite kind of fudge?
My favorite fudge is from the boardwalk at the Jersey shore. Any boardwalk shop on any of the Jersey shore points. I just love the whole candy shop atmosphere and must buy a pound of fudge and box of salt water taffy when I'm there. Sadly, I don't visit the shore and it's many fudge shops very often. Good thing I know how to make some homemade fudge! Cranberry Walnut Fudge (with marshmallows) is my current favorite!

Cranberry Walnut Fudge (with marshmallows)

2. Is there snow outside your window?
YES! I don't think I've seen my grass since Christmas! Everytime it seems to be melting, we get another storm! I heard we'll be getting more snow this week. Grace has been out to play in the snow twice. We were out less than 10 minutes each time! She's still little. She understands the concept of needing gloves on to keep warm. She "gets" the whole bundling up in her snow suit and hat and gloves, but keeping them on is another story! So, once she touches the snow with her bare hands, she lets me know it's time to come in!
3. What is your favorite meal of the day?
Dessert was the first thing to come to mind when I read this question! I love my sweets! But seriously, I'd have to say dinner is my favorite meal of the day. On most days, dinner is the one meal we eat together as a family. Joe has his breakfast before Grace and I are even awake in the morning. By the time we get up, Joe is at work and Grace is full of energy. I usually give her something she can munch on while she's running around the house and playing. All of that playing makes her tired, so on a typical day, she naps through lunch. So, I eat my lunch while trying to catch up on some blog reading. She gets a snack to hold her over until dinner. By that time, Joe is usually home from work, just in time to sit down to dinner with us.

Chicken a la King

4. Do you text on your cell phone?
I love being able to text on my cell phone! Really, though, I don't text too much. I usually only text 2 people: I text my sister-in-law some pictures of Grace every once in a while (she shares pics of my niece, Bella, too!) and I text Joe pretty much every day. Joe gets pics of the baby and a list of stuff we need from the store! Let me tell you, he gets mostly everything on the list now that I text him the shopping list!!! Other than that, the cell phone barely gets used. I'm not much of a phone person.
5. Waffles or pancakes?
Definitley waffles. I'm not a fan of pancakes and will only eat blueberry pancakes. Joe and Grace both eat pancakes and Joe will usually make a huge batch and I'll freeze the leftovers for easy breakfasts for Grace. As far as waffles go, I don't eat them too often. We don't have a waffle iron, so it's the frozen ones for us for now. My favorite way to make them is to spread some peanut butter on them while they are still hot. The peanut butter gets gooey and melty! Mmmmm! Sorry, I don't have a picture...you'll have to use your imagination! :)
Okay, so that's a little bit about me! Now it's your turn! Want to join in on the fun? Click on the Meet Me On Monday logo at the top of the page to go to the linky over at Never Growing Old. There you will find the rules for the blog hop as well as the linky. Plus, you can see who else joined and find out their answers to this week's questions!
Note: I intended to get this posted much earlier. Halfway through the post, the power went out in our town causing me to lose my internet connection until power was restored! I get a few minutes to myself and the power goes out.....figures! :)