A couple of weeks ago, we were looking for something to do with Grace. Something quick, cheap or FREE. It was a hectic weekend with errands and Joe working most of the weekend, so we really couldn't do much. We just needed something to get us out of the house for an hour or so.
We're lucky to have 2 dairy farms in our vicinity that offer little "zoo" areas. They both also have little markets so you can enjoy an ice cream cone after visiting the animals or even purchase some fresh produce or a gallon of milk to take home.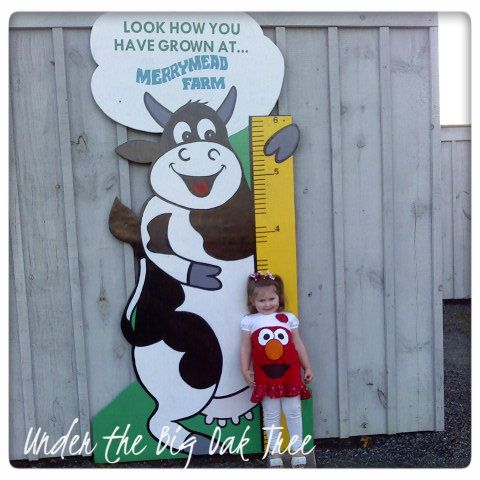 I love that we can compare her growth at each visit!


Merrymead Farm
is the farm I'm talking about today. It's not too far from our home, so it's no problem to just hop in the truck and take a ride over there after dinner. Grace doesn't eat ice cream, so we only occasionally go into the market. A lot of times we just walk around and visit the animals (they just got the cutest little pigs...3 of them!) for a little while, then go home.
There's no charge to walk around and enjoy the farm, unless you want to put a coin or two into the feed dispenser to feed the goats. We did this the last time we were there and Grace thought it was great!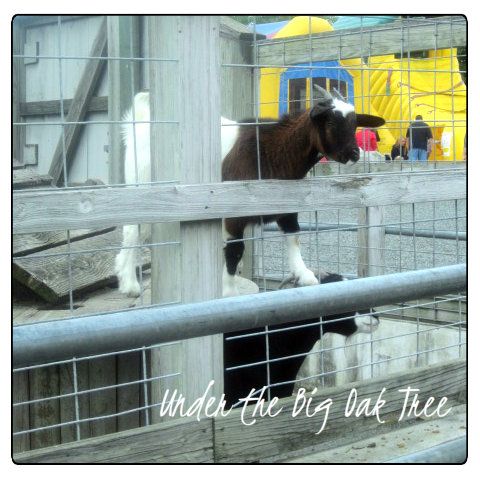 Goats looking for pellets.
She runs from one pen to the next telling us the sounds each animal makes. The funniest thing is that she calls the beautiful peacock a turkey!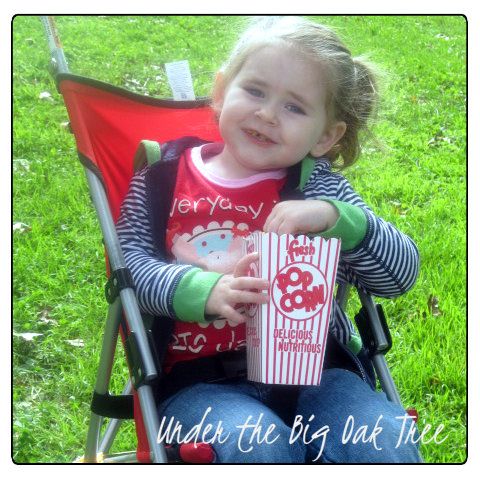 Smiling with a mouth full of popcorn!
Merrymead also offers tours of the facility and also host different seasonal events. We took Grace last year for one of their fall festival weekends which is a lot of fun! She was still young enough then, that we didn't have to spend a lot of money on the attractions there. She was content with a bag of popcorn and the
few pumpkins we purchased for our front porch
.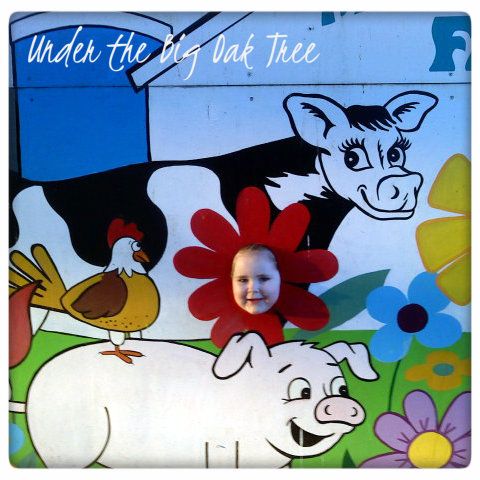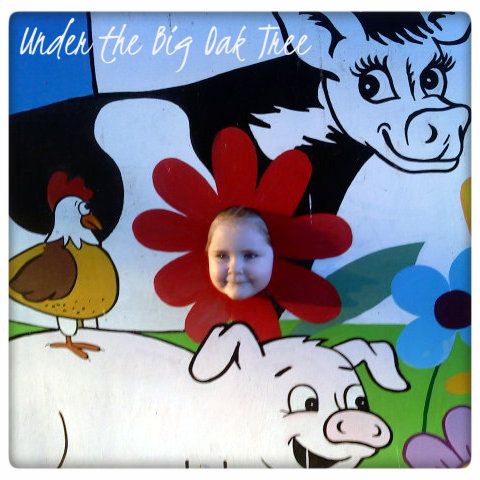 Grace just discovered that she will look like a flower if she puts her face in the hole of the billboard. I've tried to show her each time we visit, but she wouldn't pay any attention to me. The last time we were there, she saw a couple of kids and immediately ran behind and peeked out for her photo op!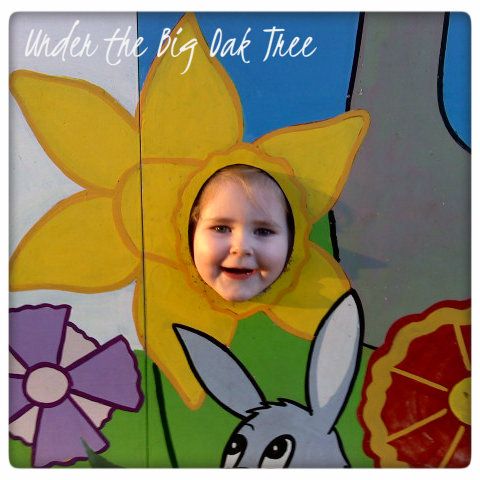 We always have a fun time when we visit the farm. It's always one of our favorite and most successful outings. Most of the time we spend little or no money. That may be why I appreciate it so much. Next time we go, we'll be sure to pick up a gallon of milk or even an ice cream cone or three, since I know it's our purchases that allow them to provide this for the community.
This post has been linked to the following blog carnivals and linky parties: