Last Halloween, instead of going Trick-or-Treating,
we took Grace to Sesame Place
. At the time, she didn't really like to watch Sesame Street, so I wasn't sure how she was going to like the characters. She had a great time running around the park and watching the characters sing and dance in the shows.
So far this summer, we've gone to Sesame Place twice and had a really great time! We're hoping to try the water rides on our next visit. It wasn't very hot on our last two trips.
Since Father's Day is this weekend, I thought I'd share this picture of Joe and Grace with my favorite furry monster:
I'm really amazed that she's not afraid of the characters!
Here's a picture of Grace enjoying herself in Big Bird's Court.
She really would have been happy spending the entire day right there. She loves running around the mat and stacking the soft blocks.
We're looking forward to a couple more trips to Sesame Place this summer!
I'm sharing this post with the following blog carnivals and linky parties: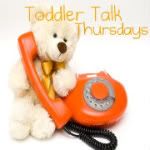 hugs,